I have something to announce! 🙂
As an avid fan of natural hair oils and the minimalism enthusiast (also when it comes to beauty choices), today I've got a review of a… hair mask for you! Until recently I believed this type of product was non-essential and oils could replace all cosmetics. Today I know they should be paired together because a hair mask is able to work wonders!
This time I want to share my opinion on Nanoil Algae Hair Mask – a product that has been designed by my favorite brand when it comes to natural beauty products and oils.
Ready for the review? Read on! 🙂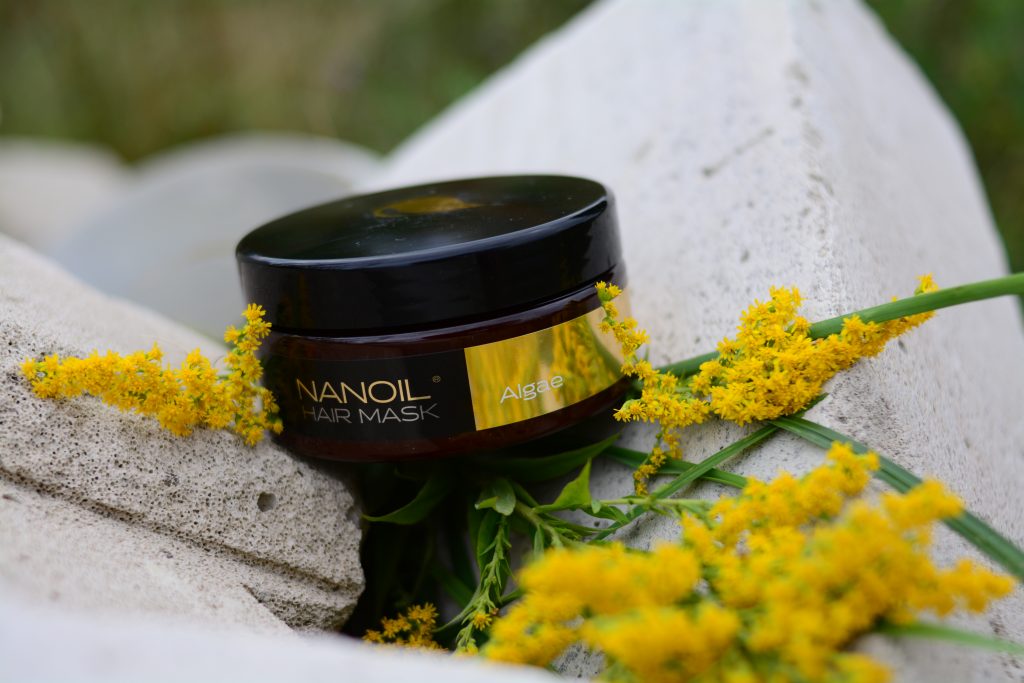 Nanoil Hair Masks. What makes them unusual?
Let me start with the thing that I always wonder about when I read reviews on beauty blogs: why this product/why this brand? Above all, I love the Nanoil beauty products because they are high quality, effective and customized to my needs. In the past I used only the Nanoil oils but I must say – the hair masks rock too!
Five masks that have been made to solve the most popular hair problems: you will all find one made for you.
The formulas have been carefully designed: the brand focuses on the top quality of ingredients and simplicity, rejecting the chemical-laden products.
The Nanoil masks – despite the typical creamy consistency of masks – don't weigh the hair down: the products are absorbed rapidly and work from within.
Moreover, they have a competitive price: it's hard to find a budget-friendly mask that gives you so many benefits.
My choice: Nanoil Algae Hair Mask
I chose the Nanoil Algae Hair Mask – the version based on marine algae. I didn't need strong keratin repair or intensive detox with charcoal and white clay. I could reach out for the argan mask but I like to use pure argan oil. And this is how the hydrating hair mask with algae won. I hoped it would help me moisturize the hair because my tresses were dry and brittle and I read that marine algae aid in revitalizing and improving the condition of hair.
Has the Nanoil Algae Hair Mask lived up to my expectations? Sure, it has. We took to each other right away!
What is the Nanoil Algae Hair Mask like?
It's the best! I guess I could finish my post here but I'm sure you want to get more details. Let me talk the ingredients, consistency and effects.
Marine algae make up the majority of the Nanoil Algae Hair Mask formula, which is a good thing because they provide the hair and scalp with valuable mineral salts that can't be found in my beloved oils. Apart from the algae extract, the mask is rich in panthenol and glycerin – the trio is made for special tasks, strongly hydrating and revitalizing strand by strand. If your scalp is prone to irritations, the Nanoil Algae Hair Mask is made for you since it has really cool ingredients and is free from synthetic substances.
I was positively surprised by the consistency of the Nanoil Algae Hair Mask. Masks make us think of flat, weighed-down tresses. On the other hand, the mask from Nanoil is creamy and lightweight. It doesn't overburden the hair, plus it's easily rinsed and very easy to use. You need a small amount to cover the hair which means it lasts long and you can save some bucks.
As far as the effects go, I could spend hours raving about them. I want to put it short not to bore you but there's so much to tell! The Nanoil Algae Hair Mask doesn't merely hydrate the hair – it perfectly enhances the tresses aiding the natural repair process.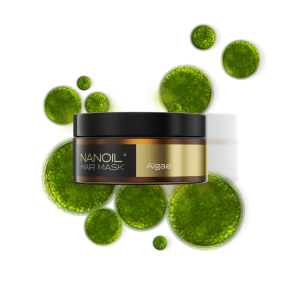 It maintains the optimal levels of hydration.
It reduces breakage.
It shields against the sunlight, toxins, etc.
It smoothens and eases styling.
It adds softness and resilience.
It soothes scalp irritation.
It prevents split ends.
It enhances the lovely color and shine.
Summary: price & rating
It's impossible not to like this mask. Both the ingredients and effects are awesome. The benefits I've listed are real: the Nanoil mask with marine algae works wonders on my hair.
I must admit that I was skeptical at first. I thought that hair oils could replace masks. They can't, though. You won't find a hair oil rich in marine algae while this marine marvel is available in the Nanoil Algae Hair Mask. Summing up, I fell in love with marine algae and introduced a new product into my minimalist hair care: the Nanoil mask that I use regularly and heartily recommend it!
If you want to learn more, please see www.nanoil.co.uk (the prices and other pieces of info can be found there).