I do not know if you've noticed, but it's usually the case that women who have straight hair dream about having curly hair, and vice versa. I must admit with pride that in my case it is different. I have straight hair, I always had it and I will always have it.
Of course, from time to time I curled it on various occasions. My mother used to do my braids and let me go to sleep with them. I never used a curler; I would probably hurt myself. I once asked the hairdresser to curl my hair after a haircut, but she refused. She explained that it did not make sense, because after an hour my hair would be straight as it was before. I thought perhaps she was a miserable hairdresser, but then I looked at my hair: maybe the problem lays in the strands, not an ignorant hairdresser?
What's my hair like?
I'm far from complaining about my hair. I know that many of my friends envy me: it's not frizzy, it's not curly or wavy, it's not thin or damaged. But it is far from ideal. My hair is thick, straight and stiff. Smooth and shiny. If it was short or layered, it would have been difficult for me to style it. It is not easy to choose the right shampoo because although my hair is greasy at the base, the scalp is so dry that it often flakes – even in the place where the hairline is just beginning.
For many years I was looking for the perfect shampoo, not to mention other hair preparations. But I just couldn't find it. I use delicate shampoos not to burden my hair. I am never happy with it one hundred percent, but I have long stopped worrying about it. It is, as it is. It could have been worse.
What's the porosity of my hair?
Some time ago, when I was sitting at the computer, I came across the term "hair porosity". I did not know what it meant, so I started looking for information. I learned that the porosity of the hair is affected by the degree of how far the scales on the surface of the hair are raised. I read that if we know the porosity of our hair, we will be able to choose the right cosmetics. Then I thought that maybe my problem is – maybe the hair care cosmetics I use do not match the porosity of my hair. I made a quick test for the porosity of the hair, and after a while, I found out that my hair has low porosity.
What does it mean to have low porosity hair? NANOIL For Low Porosity Hair
Low porosity hair is characterized by its tight structure. The improper care can interfere with its hydro-lipid balance. I have read that it is difficult to take care of hair like mine because the ingredients of most cosmetics do not penetrate into its interior. I started to look for preparations that will take care of low porosity hair properly. The first (and last) what I found was NANOIL – oil for low porosity hair. It is the only oil on the market that matches the porosity of the hair. It can be applied to both the hair and the scalp, which can solve my problem related to greasy hair and dry, flaky scalp. In addition, low porosity hair is very sensitive to harmful agents that are difficult to avoid, such as toxins or high temperatures, and thus – UV radiation. NANOIL hair oil contains a UV filter that protects the hair from the harmful effects of sun radiation and the dangerous effects of high temperatures.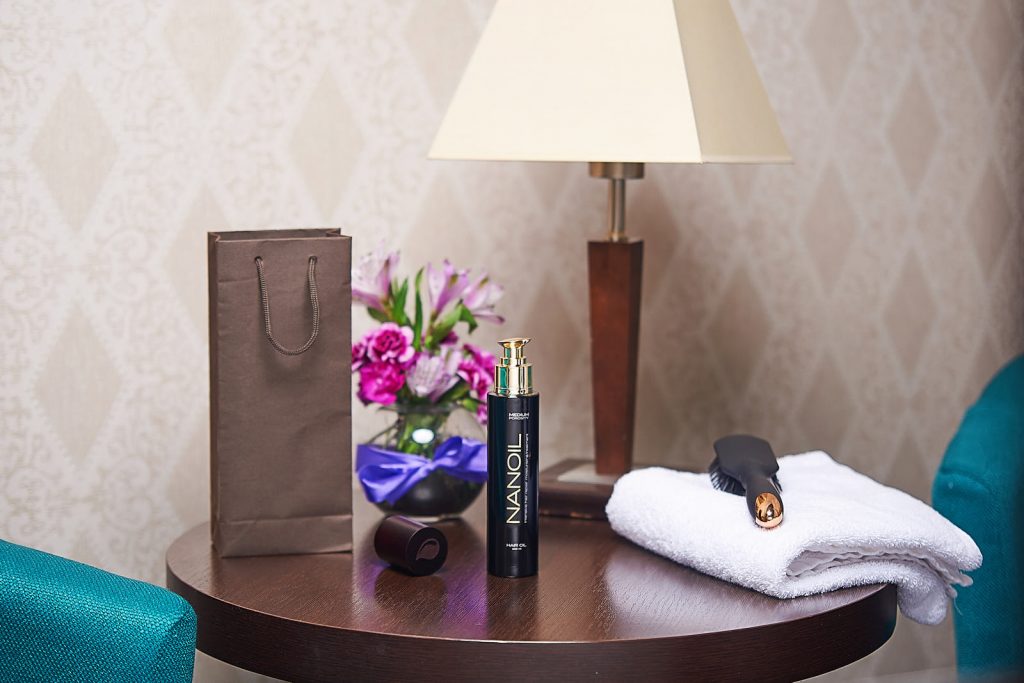 NANOIL For Low Porosity Hair – composition and properties 
NANOIL is a natural product based on vegetable oils and vitamins that regulate the processes occurring in the scalp and accelerate hair growth. Oils and butter, which enrich the composition of NANOIL oil for low porosity hair, include:
coconut oil that contains a natural sunscreen,
argan oil that protects your hair from high temperatures,
castor oil which boosts hair growth,
shea butter which moisturizes and smoothes the hair,
cupuacu butter which prevents frizz,
babassu oil which facilitates combing and styling,
monoi oil that prevents hair loss,
passion fruit oil which slows down the ageing process,
siberian pine oil which prevents hair loss and fights dandruff.
I thought to myself, I must try it out. If this cosmetic does not solve my problems, then nothing else will. Although I wanted to believe that this time I would succeed, I was full of scepticism; I have already tried so many hair preparations and none have brought the expected results. Nevertheless, I gave the world another chance and I ordered NANOIL oil for low porosity hair.
NANOIL For Low Porosity Hair – effects
When I used it for the first time, I could not believe what I saw: my hair was no longer flat, it was smooth and shiny as always but it gained a lot of volume. The scalp was not dry anymore – I did not see any flakes on its surface, of course, I was checking it carefully for hours. However, the main problem was the tendency to oiliness. To assess the NANOIL oil from this angle, I had to wait a bit. And so – the day after applying NANOIL to my hair, it was still fresh. The oil did not burden it and did not increase sebum secretion. To my great surprise, two days after applying it, my hair was still fresh. I washed it on the third day, and only because I was bothered by the fact that I did not wash my hair for two days in a row.
In addition, I could finally style the hair the way I always wanted: I curled the whole length and the effect lasted throughout the day. My hairdresser (the miserable one) would be surprised.
Although after the first use of NANOIL oil for low porosity hair, I noticed a significant improvement in the condition and appearance of my hair, you must remember that the best results are achieved thanks to its regular use, preferably after each hair wash. I've been using it for three months so far. The best part is that NANOIL oil replaces all hair care products except a shampoo. When I go away on holiday, I no longer have to pack my hair cosmetics in a separate suitcase.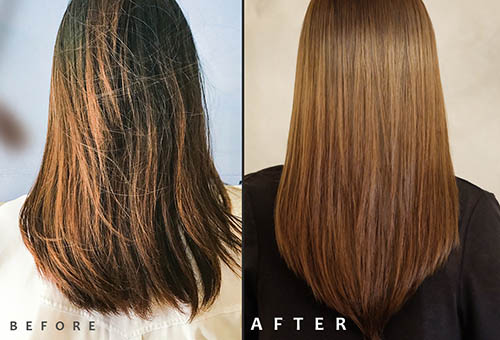 The price of luxury
Finally, I'd like to say something that sounds great, but most of all, it's true: NANOIL hair oil is a luxury product. It can successfully compete with the best brands used by professional hairdressers. It has a luxurious look – NANOIL oil is sold in a heavy glass bottle with a golden dispenser and a wooden cap. NANOIL oil is a high-quality product and the quality costs. Nevertheless, I think that its price is not excessive, given the captivating effects.
What porosity does your hair have? Have you used NANOIL oil dedicated to your hair? If so, what do you think about it?
You can find more info on http://nanoil.co.uk