Hey there!
In today's post I want to share some skin care tips for redness and broken capillaries so you can make your face less reactive and more radiant! How to care for it? What to use? You'll find all the answers below.
Is your skin easily irritated and prone to spider veins?
Mine used to be like that! Don't worry. It's not a dead-end situation.
There are many ways for soothing, revitalizing and beautifying the skin, and no, you don't need a facial at the salon. The suitable skincare products will do. Regular use of cosmetics rich in vitamins and botanicals is the easiest way. A product infused with buckeye or arnica extract and vitamin K or B3 will be a game-changer!
Of course you must also remember to hydrate your skin from within, drinking at least two liters of water per day. Actually, this is what any skin longs for, regardless of the problems.
As far as the rosacea-prone complexion goes, we must choose skincare products carefully. Gentleness is a must! If I were you, I would give up on physical scrubs, rubbing skin or alcohol-infused cosmetics – these things make the skin worse, causing irritations and triggering flare-ups, which means another spider vein on the face…
Give an anti-redness face serum a try!
I've learnt from experience that using a suited anti-redness serum is the best and fastest way to reduce skin irritation and spider veins on the face. Which one exactly? I've got a few recommendations.
1. Nanoil Anti-Redness Face Serum
Volume: 50 ml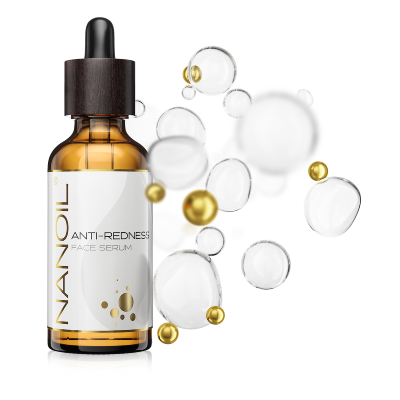 The redness-reduction number one – Nanoil Face Serum abounds in botanical extracts that have a soothing effect on the skin. Provitamin B5 and Buckeye Extract reinforce delicate capillaries; extracts from Linden, Cypress and Boerhavia Diffusa nourish, revitalize and act as antioxidants which prevent other signs of aging like pigmentation spots or fine lines. What I love about the Nanoil serum is skin relief after just one use, plus an optimally-hydrated and smooth face. Each drop of the miracle-working serum is high in nutrients and very light. It sinks in right after application. Without doubts, it's my favorite serum for redness and spider veins!
product website: www.nanoil.co.uk
2. Medik8 Calmwise Serum
Volume: 15 ml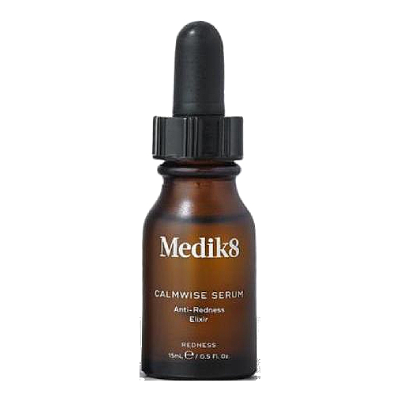 Medik8 also offers a stellar irritation-soothing serum. Unfortunately, this one, despite a smaller size, will put more strain on your budget. The Medik8 Calmwise Serum is watery, well absorbed, and it alleviates and nourishes the skin. It contains jojoba oil, organic sage extract, and teprenone – a redness-reducing ingredient. If you count on an all-natural product, this one may let you down. It includes silicones which instantly leave the face smoother but long-term use may end up badly, particularly on easily-congested skins.
3. Exuviance Soothing Recovery Serum
Volume: 29 g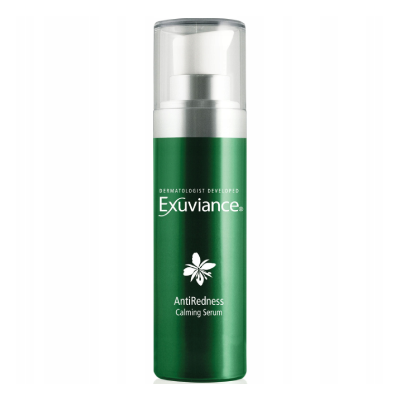 Here's another recommendation for those who suffer from dilated capillaries, skin irritations or acne rosacea. The skin needs soothing and cooling in each case while the Exuviance Soothing Recovery Serum guarantees that. Though it's creamy, it's also light and non-overburdening. It contains many plant extracts: Willowherb, Licorice, White Tea, and an essential for redness-prone skin – Buckeye Extract. Beyond that, the product includes 6% PHA/Bionic and TriPeptyd-8 Complex – a slightly more intensive duo. It's good to do a patch test first because such a richness of ingredients means high effectiveness, but may also worsen easily-irritated skin.
4. La Roche-Posay Rosaliac AR Intense Serum
Volume: 40 ml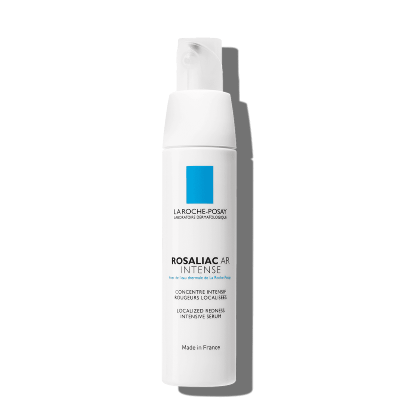 The French style and elegance comes next – a gel-serum for redness-prone skin by a well-known La Roche-Posay. This lightweight serum is based on mineral-rich thermal water, and also contains a botanical extract abounding in polyphenols which reduce redness (ambophenol) and neurosensine which alleviates irritated skin. The formula is untypical because there's no room for the capillary-strengthening buckeye plant or arnica found in most anti-redness products. Still, the La Roche-Posay Rosaliac AR Intense Serum pleasantly nourishes, hydrates and soothes so we can enjoy redness-free, lovely faces for longer.
5. Dior Capture Youth Serum
Volume: 30 ml
And finally, a top-shelf item for fans of luxury skin care. A serum by Dior isn't cheap but it's definitely worth noting because it's the only one in my ranking to contain a green pigment, which means it doesn't only soothe irritated skin but also instantly camouflages redness. Of course it takes more time to remove spider veins. The Dior Capture Youth is made from 79% natural ingredients, including cotton peptides which strengthen the skin. I'm not talking you into paying a fortune for a serum, but it's definitely a noteworthy item.