Best vitamin C skin product? Is there a cosmetic that would take a GOOD care of skin now when everyone is forced to wear masks? Not only does our skin get older every day but it's also doomed to imperfections triggered by the face coverings. 
Do not worry, my friends 🙂 I'm coming to you with an easy solution. In a moment you will read my Nanoil Vitamin C Face Serum review and see how simple it is to get your skin on its feet, figuratively speaking.
"Which vitamin C face serum would you recommend?"
Are you one of those who post such questions online and ask them in beauty salons and drugstores? If the answer is positive, then – just like me – you must have had many bad experiences with face serums. If you've heard that most vitamin C products aren't effective and that you have to wait ages to notice some improvement, well, that may be true. It's all about the form of vitamin C added to a product, some of them work better, others work less effectively. The good news is, however, that I've found vitamin C serum that delivers measurable results, and this product's name is Nanoil Vitamin C Face Serum. Why is it better than its competition? One of the reasons is the form of vitamin C used in this product is known for not breaking down. It improves the appearance of skin from the first application. It was literally just one use of Nanoil serum that got me smoother, less dry and more resilient skin. And that was just the beginning 🙂 What happened later?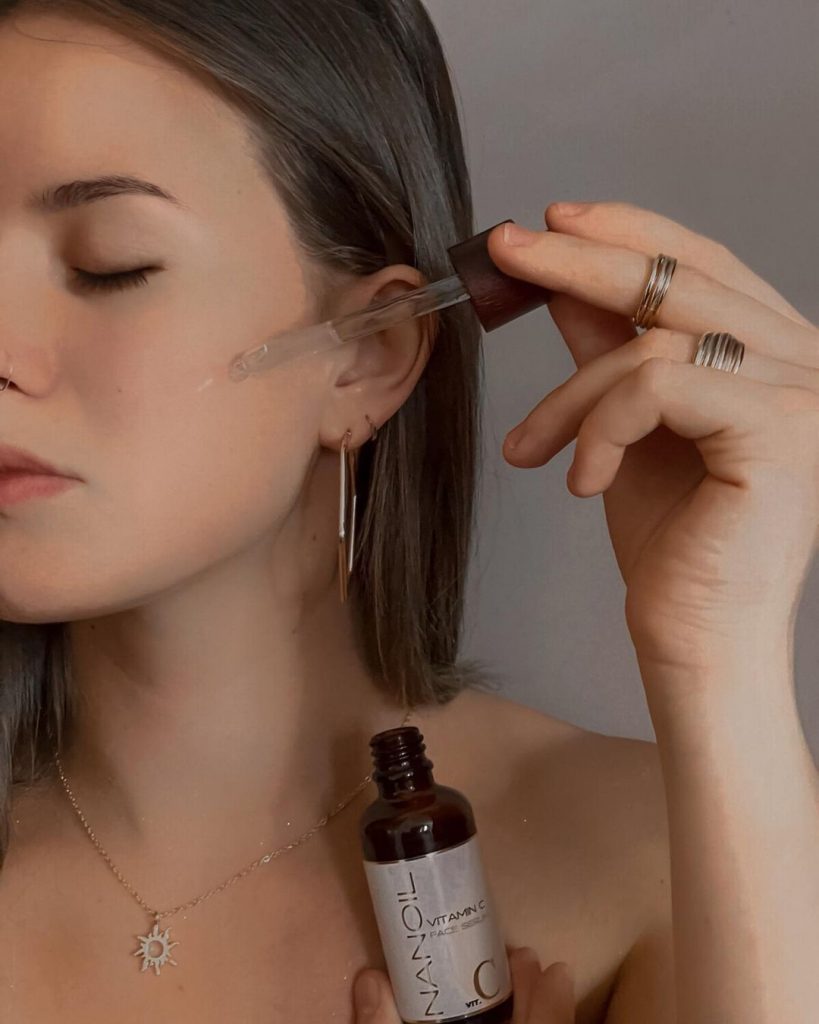 Vitamin C in Nanoil serum
Believe me or not but thanks to Nanoil face serum my complexion is now glowing and everyday it looks as if I had 8 hours of sleep: skin is well-rested, even-toned, pleasantly smooth and I can't see any pigmentation pots or post-acne marks any longer. Owing to its non-greasy texture, Nanoil Vitamin C Face Serum is a perfect product to be worn underneath a face mask – it's neither oily nor heavy. Since it doesn't leave any oily feel, the skin can breathe easily even if you're wearing a mask for 8 hours at work. Furthermore, ever since I've been applying vitamin C serum to my face, I notice significantly less breakouts or blackheads – almost none. This stable form of ascorbic acid also:
reduces wrinkles
evens skin tone and brightens pigmentation
protects from the sunlight and photoageing
deals with spider veins
delivers amazing results despite served in a low concentration
Nanoil vitamin C serum – other things you may like
Nanoil face serum also contains punarnava (boerhaavia diffusa) root extract which is a long-known antioxidant deriving from nature. It makes vitamin C work better therefore together they are responsible for brightening the skin, minimizing wrinkles and in general combating oxidative stress that leads to sagging.
Why would I recommend vitamin C face serum from Nanoil?
amazing quality
big size and reasonable price
effect of rested and flawless complexion
even skin with no pigmentation spot
oxidative stress protection
works well even underneath a face mask
easy access on nanoil.co.uk
How do I apply Nanoil Vitamin C Face Serum?
My complexion isn't very problematic so I use the serum only once a day, in the morning under makeup. Obviously, I apply it after wiping my face with a tonic and prior to a day cream with SPF. You use no more than a couple of drops per application.
Let me know if you belong to the group of Nanoil fans. What do you think about this face serum?