Hey guys,
it's been long since I recommended some new arrivals so let me catch up today. I'm going back with a review of natural beauty oil. I came across Nanoil Sweet Almond Oil and use it mostly for my face skin and hair. I must say, the product really stunned me.
Would you like to know why I'm so in love with it?
You will find the answer in my review which features some general info, brief round-up of ingredients and properties, focusing on how I use it for daily skin and hair care. 🙂
My searchings for ideal oil
I switched to natural care a few months ago, which means giving up on products swarming with preservatives, artificial colorants, aromas and other types of chemicals.
My goal was simple: finding a multitasking cosmetic as natural as possible and easily accessible.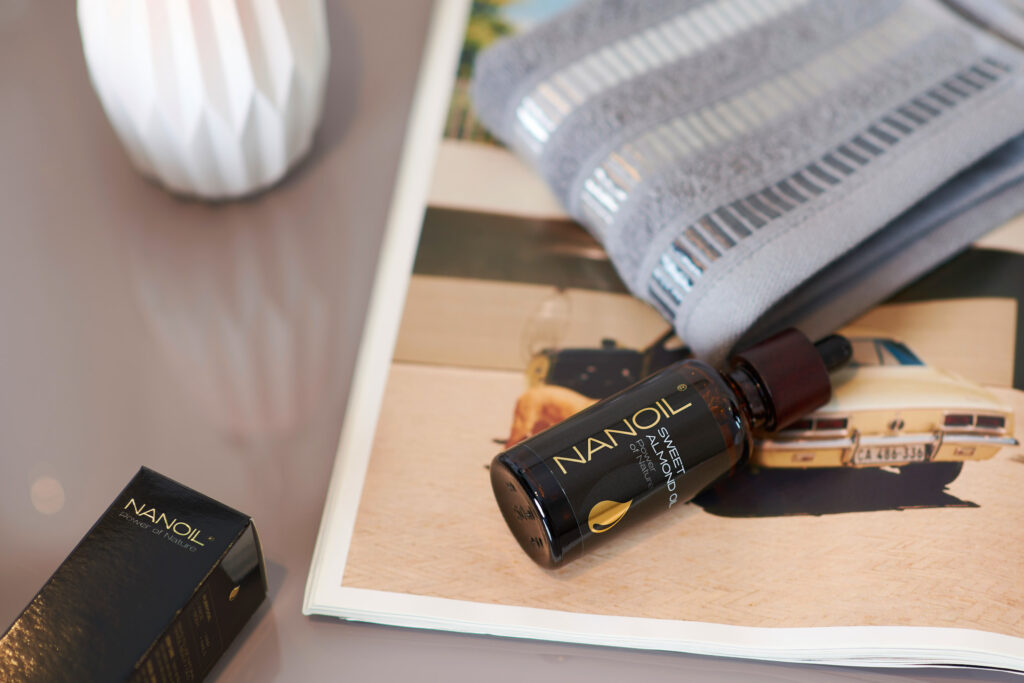 Sweet almond oil turned out to be the one I can use both on body skin and delicate face, hair, scalp, nails, etc. Have you heard that it's a favorite oil chosen for stretch marks treatment and the only one suitable for sensitive infant skin?!
Just remember that almond oils aren't equally good!
Nanoil Almond Oil
My favorite is… Nanoil Almond Oil, that is an exquisite product made up of highest-quality ingredients. You should have it yet not just for the brand's popularity and luxury. This oil:
contains 100% cold-pressed, unrefined, Ecocert sweet almond oil
is organic and natural, free from any synthetics
has weightless immediately-absorbed consistency which penetrates skin and hair, working from within
I'm aware that most of my readers expect more details so here you go 🙂
INGREDIENTS of Nanoil Almond Oil
There's a reason for the dark glass that Nanoil bottle is made from. It secures natural almond oil from the bad effect of the light. INCI is exclusively made of 100% Prunus Amygdalus Dulcis Oil, or cold-pressed and unrefined sweet almond oil, rich in nutrients such as precious omega fatty acids, vitamin E (antioxidant) and other vitamins (A, D).
CONSISTENCY of Nanoil Almond Oil
Whenever I see a product is based on natural oil I'm worried it'll build up and cause greasy film. Luckily, there's nothing to be worried about. Nanoil Almond Oil is ultralight so it's absorbed easily. The oil doesn't leave a tacky layer. Instead, it gives a velvet touch and softness. At the same time, it hardly has any smell (no irritating scent). To me it's ideal in terms of consistency.
PROPERTIES of Nanoil Almond Oil
You can get to know the product best by looking at its qualities. They are actually the most vital for users. Are you curious about Nanoil Almond Oil effect?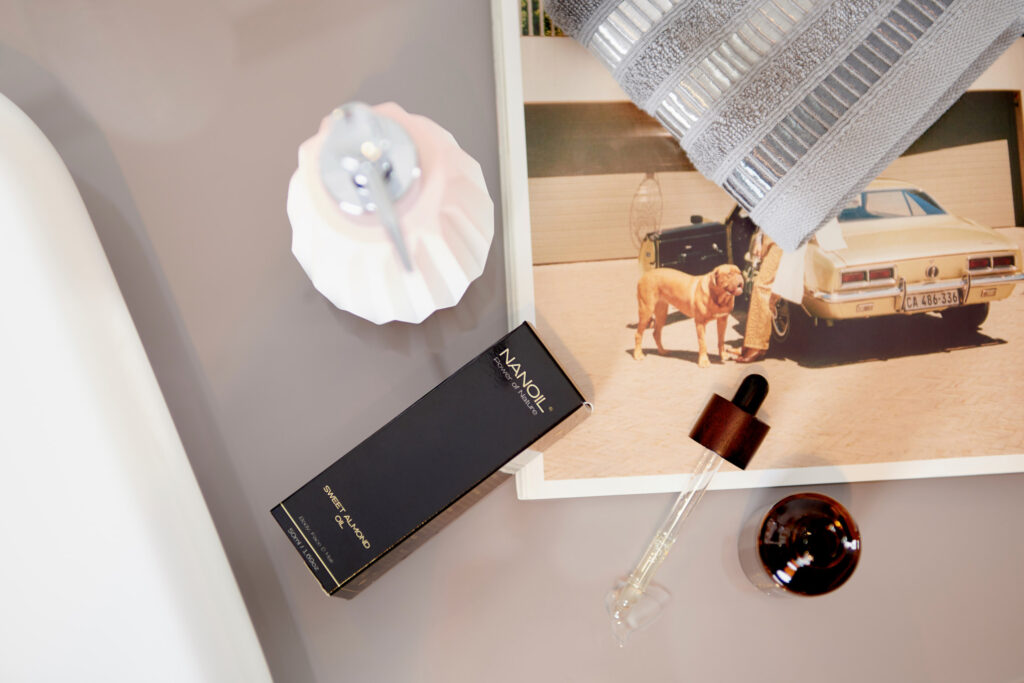 Most of all, it's emollient which protects against water loss: it applies to both hair and skin because such substance is necessary for both. Additionally, almond oil is a natural sunscreen reducing harmfulness of UV radiation. Used regularly, it delivers valuable vitamins, minerals and nutrients, as well as has conditioning effect and health benefits.
Ok, let's get to the point. What does Nanoil do exactly?
Nourishes, keeps moisture, enhances repair of hair and skin.
Strengthens follicles, stopping hair loss.
Firms up skin, reducing visibility of stretch marks and cellulite.
Conditions skin as well as soothes skin irritation.
Blocks skin photoaging, protecting from the sunlight.
Has antioxidant and antiaging effect on skin and hair.
Sum-up. Do I recommend it?
Without doubts Nanoil Almond Oil is my favorite! I love its lightweight consistency, 100% natural composition and full range or effects. I finally have one product I can use for many problems and in many ways, even more so because…
… Nanoil is a line of a few beauty oils. Beautifully-designed, effective and natural six cold-pressed and unrefined oils:
Nanoil Almond Oil
Nanoil Argan Oil
Nanoil Castor Oil
Nanoil Jojoba Oil
Nanoil Avocado Oil
Nanoil Macadamia Oil
If you're intrigued by the product and feel like testing it, don't hesitate: go to nanoil.co.uk where you can find A to Z about it and order your perfect body and hair oil. I recommend it!