Hi there,
today I'll briefly review top heat protectant sprays for heat styling – blow-drying, flat-ironing or curling.
Keep scrolling and enjoy reading!
Thermal protection while heat styling. Does hair really need it?
Some people have doubts if heat protectant is a must or just an unnecessary invention of cosmetic companies. The truth is we MUST protect our hair from high temperatures.
Heat styling is the very thing which causes:
hair dryness and frizz
lost shine and dullness
weakness and breakage
split hair ends
static flyaways
You don't want damaged hair? Safeguard it while styling!
There's always a way out, and, luckily, you don't need to give up on heat styling and your beloved straightener.
Reducing the harmfulness of temperatures is all we need. We should go for expert products which prevent damage from a dryer or other heat styling devices. Using cosmetics such as heat protectant spray is the easiest remedy.
By using heat protectant sprays before heat styling, you make sure your hair is safe. Such a product:
guarantees protection from high temperatures
prevents the loss of essential hydration
reduces frizz and dryness
eases heat styling routine and cuts its time in half
The best heat protectant sprays for hair. Which products do I recommend?
I have a few favorites which guarantee the heat styling routine is safe and I don't fry my hair with a flat-iron or dryer – I fully trust those sprays. Here's a list of my must-haves!
Nanoil Heat Protectant Spray (NUMBER ONE)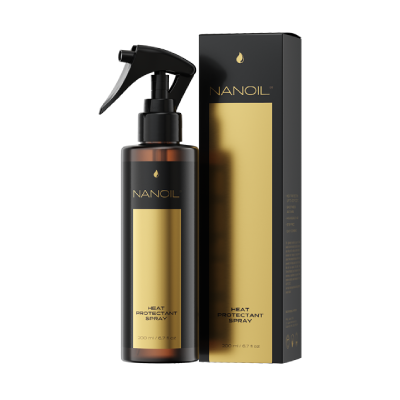 I definitely reach out for the Nanoil's thermal protection spray the most often. I've been using the brand's products for years. Nanoil Heat Protectant Spray is a light-textured mist which smells wonderful and envelopes the hair to leave it smoother, more glossy and easier to comb out. It prevents frizz and static, but the most important function is protection against very high temps. climbing to 430 degrees. Additionally, the Nanoil's spray guards the strands all day – from the sunlight and toxins as well. It is the best protective spray for hair. You won't find a better one at this price range.
Website – www.nanoil.co.uk
Kérastase Genesis Défense Thermique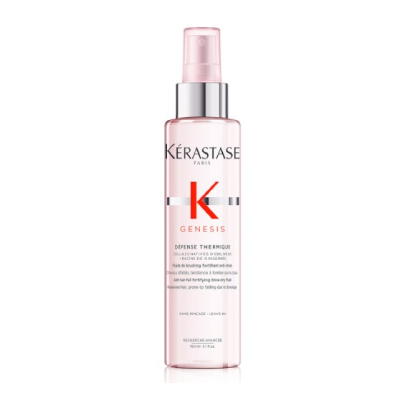 Kérastase also offers a really cool anti-heat damage spray to use during heat styling routine. It's smaller and more expensive than my number one, but it is definitely worth listing. The pink bottle houses light-textured liquid which is based on coconut oil and extracts from edelweiss and ginger root. The formula also contains lots of silicones, which is why the product adds smoothness to hair. Kérastase Genesis Défense Thermique Spray works well on all hair types, but it's mostly recommended for strengthening thinning hair.
Balmain Thermal Protection Spray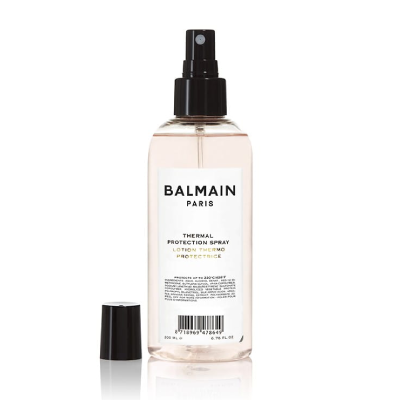 Balmain's spray is another product which cares for the hair while we heat style it, making sure it isn't damaged because of a dryer or flat-iron. It has a light consistency and a very nice scent. Easy use and non-overburdening effect are the positives for sure. Balmain Thermal Protection Spray delivers protection from thermal damage and – thanks to extra components (panthenol and silk proteins) – nourishes the hair during heat styling. Unfortunately, it has a high price.
OUAI Heat Protection Spray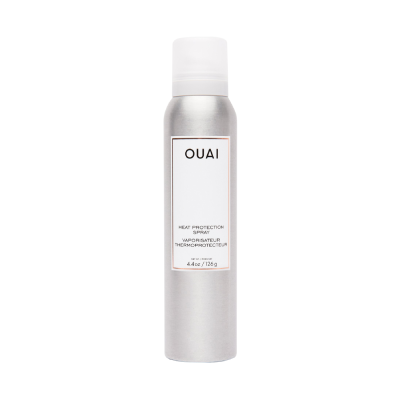 A spray from Ouai is also a popular choice for heat protection. Unfortunately, the product isn't widely accessible so online shopping is the only option. It doesn't come in an inviting packaging (a simple aluminum can) but it does work well. Apart from protecting the hair against the destructive effect of high temperatures, it also holds a hairstyle we create – curled or straightened hair. It can be used on wet or dry hair, is efficient, but there's no "wow" effect.
Wella Eimi Sugar Lift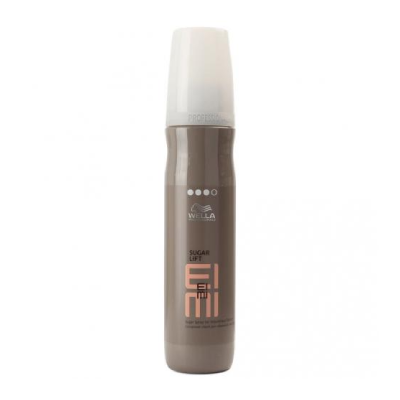 Wella Eimi Sugar Lift is an unusual sugar-based spray. Did you know that sugar was commonly used for hair styling when there weren't so many hair primers? I guess the brand got inspired by this idea. The spray is specifically made for boosting volume of hair and creating its desired shape, but it's also recommended for thermal protection. It builds a protective barrier which makes the hair less prone to breakage and dryness. Additionally, it gives shine and smoothness. You must use it carefully, though. It may overload the strands and leave them sticky.