Hey you lovely beings 🙂
You've been asking me about my favorite hair masks, so I thought I'd tell you this and that about them. Enjoy reading 🙂
Hair mask in my beauty routine
Currently, there are two things that my hair care is based on. The first one is thorough hair cleansing. I do this with a shampoo (note: I choose cleansers that don't contribute to dryness), as well as with an enzymatic scalp peel which I use only once every two weeks. The second thing is a hair mask or plant oils. I reach for the latter less often, only when I have enough time for the time-consuming hair oil treatment.
I select hair masks according to my hair's current needs. For example, if it feels dry, I reach for humectant masks. When my hair is brittle and its ends split, I help it recover using protein-based masks, e.g. enriched with keratin.
What are my favorite hair masks?
I have a few proven hair products that I always turn to whenever my hair needs some nourishment, moisturizing and strengthening. Below you'll find these products, which I'm going to present in a form of a short ranking.
I truly and wholeheartedly recommend these hair masks to you.
1. NANOIL KERATIN HAIR MASK
What hair type?
damaged, brittle, splitting, thin and fine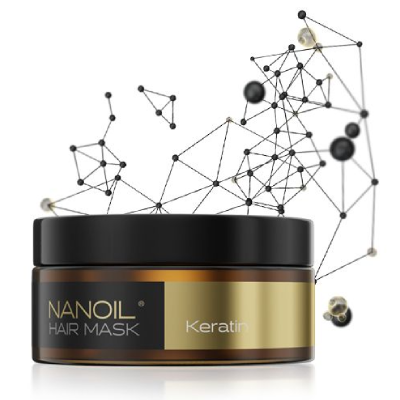 Nanoil Keratin Hair Mask is certainly my favorite hair mask. It's one of the five hair masks brought out by Nanoil. As the name suggests, this product is formulated with hydrolyzed keratin, meaning that it's a typical protein mask that you can reach for to rebuild, repair and strengthen your strands. Its cream formula is enriched with panthenol, so you can expect it to smooth out the hair and lock water inside the strands. It spreads well along the lengths, is easy to rinse out, doesn't weigh the hair down and has a really pleasant aroma. Every time I apply Nanoil Keratin mask, my hair looks gorgeous – it gives me salon-worthy results. Isn't it what we all want, is it?
Visit – www.nanoil.co.uk
2. MACADAMIA DEEP REPAIR MASQUE
What hair type?
dry, weak, dull and rough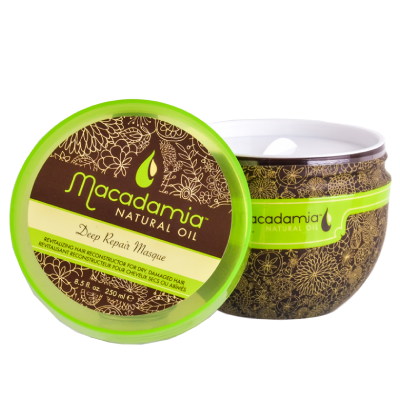 Macadamia brand launched another hair mask that I suggest you to give a go to. This is an emollient mask formulated with plant oils. Apart from macadamia nut oil, Deep Repair Masque also contains argan oil or tea tree oil. This nourishing effect delivered by the oil blend is teamed with aloe vera and sea algae extracts – two naturally-derived substances responsible for improving moisture. To get stronger and better-looking hair, this cream formula should be used every time after you rinse a shampoo lather. Let me warn you – these effects aren't quick, so stay patient and don't forget to use the Macadamia hair mask on a regular basis.
3. DAVINES NOURISHING HAIR BUILDING PAK
What hair type?
normal, weak, brittle, dull, lifeless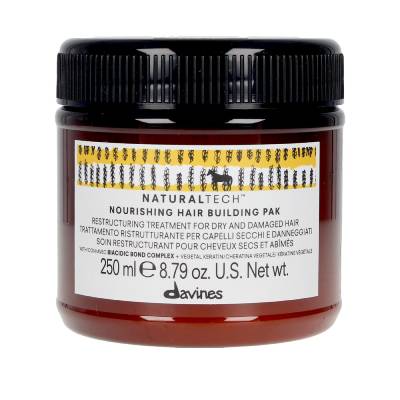 I have some fond memories of Davines repair treatment and their keratin hair mask that is a part of NaturalTech series. Apart from hydrolyzed keratin, it's also formulated with grape phytoceuticals that deliver an antioxidant effect. In other words, this mask doesn't only rebuild and strengthen the hair but it also combats free radicals and delays ageing of hair. The Davines mask is effective, no doubt, but I'm not sure whether you will like its thick texture. Nourishing Hair Building Pak's price is a little bit higher than most hair masks, too, so keep this in mind.
4. KEVIN MURPHY HYDRATE-ME MASQUE
What hair type?
dry, dull, rough and frizzy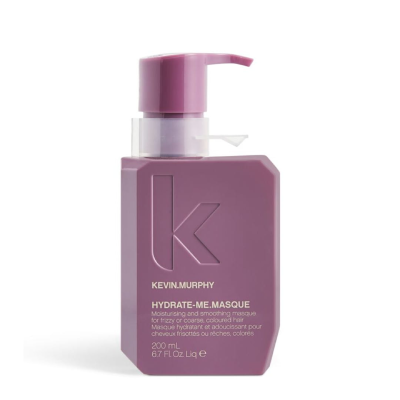 If your hair is extremely dehydrated, this moisturizing Hydrate-Me mask by Kevin Murphy may help you combat this problem – this product works quite well. Actually, you can get yourself all three cosmetics that belong to this series: mask + conditioner + shampoo. You'll definitely recognize Kevin Murphy's products by their characteristic pastel colors and unusually-shaped packaging. The price is another distinguishing feature because these hair products are expensive, unfortunately. However, to me Hydrate-Me hair mask is worth the money because of its formula. It's made up of rosehip oil, evening primrose oil, bergamot and kakadu plum oil, shea butter, vitamin C and seaweed extract. Combined together, these substances moisturize deeply and leave hair super smooth.
5. GOLDWELL KERASILK CONTROL MASK
What hair type?
unmanageable, unruly, frizzy and dull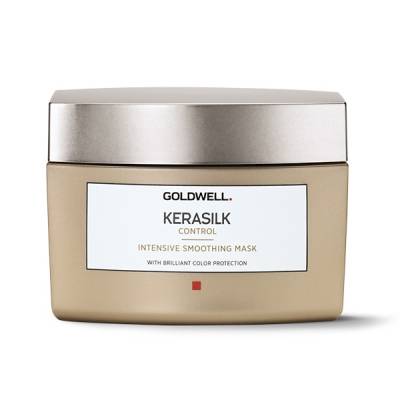 If you like Goldwell, you can try their hair mask formulated with keratin and liquid silk for repaired and stronger hair. This is another protein mask that I'm recommending because it offers a large concentration of the ingredients needed to reverse damage in hair. Additionally, I noticed that Kerasilk Control Mask helps me tame the hair, boosts shine, improves elasticity and reduces frizz. I reach for Goldwell Kerasilk Control Mask after the summer when I need to tame my hair. This product helps me regenerate the strands.